PARENT TEACHER CONFERENCES
Parent Teacher Conferences will continue this week. Remember, all 1st-3rd grade students will be dismissed at 12:45 p.m and all 4th-6th grade students will be dismissed at 1:00 p.m all week. Kindergarten students will be dismissed at 12:00 p.m. all week. Please make appropriate transportation and child care arrangements.  We look forward to seeing you all at parent teacher conferences soon.
FALL BREAK
Our fall break will begin on Monday, September 23rd and continue through Monday, October 7th.  School will resume on Tuesday, October 8th with a full day of instruction.    The 6th grade students will be heading to camp on Monday. October 7th, if your child is in 6th grade then please be sure to bring them to school on Monday morning. We encourage all students to continue learning and growing over break.  All students that complete 8 Achieve articles with a 75% or higher score over the break will receive a special prize!  We hope you enjoy a wonderful break!
5TH ANNUAL PARENT ACADEMY
Save the date! Learn about tools, strategies, and resources to support your child's success in school. Breakfast will be provided for all.  Our district's Parent Academy is coming on Saturday, October 19 at Vista Square Elementary from 7:30 am-12:30 pm. Registration is now open. Please register by clicking here!  We hope to see you there!
COMPUTERS 2 KIDS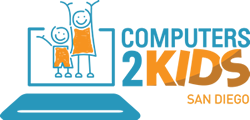 Are you in need of a computer or tablet?  We will be having the Computers 2 Kid and Cox Communication at Rohr on October 24 from 3:45 p.m.-5:15 p.m.  This event sells refurbished computers and tablets at an affordable price.  Be on the look out for a flyer being sent home with more information about the event and products. Click here to find more information and to apply today!
Snapshot of the Week
Monday, September 16, 2019: Parent Conferences-Minimum Day
Tuesday, September 17, 2019: Parent Conferences-Minimum Day
Wednesday, September 18, 2019: Parent Conferences-Minimum Day
Thursday, September 19, 2019: Parent Conferences-Minimum Day/Superstar Assembly K-3 (8:30  a.m.)/ Superstar Assembly 4-6 (9:45  a.m.)
Friday, September 20, 2019: Last Day of Quarter 1
Upcoming Events
September 23-October 4: Fall Break
October 7-October 11: 6th Grade Camp Marston
October 8: Students Return
October 9: Fall Picture  Make-Ups
October 14: SSC Meeting