SCHOOL SITE COUNCIL MEETING
Our next School Site Council Meeting is scheduled for Monday, October 14th at 3:05 pm in Room 206.  We invite all parents and community members to attend.  
PICTURE DAY THIS WEEK
This Friday, October 18 we will have make-up picture day.  If you 
would like to retake your child's photos or missed the opportunity to take pictures in quarter 1, be sure to have your child retake photos this Friday!
5TH ANNUAL PARENT ACADEMY
There is still time to register for the Parent Academy!  There are only 19 spots left!  Please register today! Learn about tools, strategies, and resources to support your child's success in school. Breakfast will be provided for all. Childcare will be provided on a first come, first served basis, so please register early. Our district's Parent Academy is coming on Saturday, October 19 at Vista Square Elementary from 7:30-12:30. To register please click: http://cvesdparentacademy.org/  or call 425-9600 Ext. 1520.
COMPUTERS 2 KIDS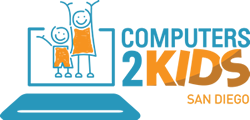 Are you in need of a computer or tablet?  We will be having the Computers 2 Kid and Cox Communication at Rohr on October 24 from 3:45 p.m.-5:15 p.m.  This event sells refurbished computers and tablets at an affordable price.  Be on the look out for a flyer being sent home with more information about the event and products. Click here to find more information and to apply today!
RED RIBBON WEEK
Mark your calendars now for Rohr's Red Ribbon Week. The week is October 21-25. We will have Spirit Days and many other activities throughout the week. The theme this year is Send a Message, Stay Drug Free. More information will be available soon.
Snapshot of the Week
Monday, October 14,  2019: SSC Meeting (3:05 p.m.)
Wednesday, October 16,  2019: Kickball Game vs. Parkview Panthers @Rohr
Thursday, October 17, 2019:California Great Shakeout/Fire Drill
Friday, October 18, 2019: Fall Picture  Make-Ups
Saturday, October 19, 2019: Parent Academy at Vista Square
Upcoming Events
October 21-October 25-Red Ribbon Week
October 22: DAC/DELAC Meeting
October 23:Kickball Game vs. Allen Eagles at Allen Elementary
October 24: Connect 2 Compete Computer Distribution Event
October 25: Costume Parade
October 25: Trick or Trunk/October Nights
November 1: ELAC Meeting