RED RIBBON WEEK
We are participating in Red Ribbon Week this week. The week begins on Monday, October 21st. Throughout the week, students and staff will receive red ribbons and pins . Each day this week will be a different spirit day. Please read the snapshot of the week below to be informed on the spirit days this week or you can find it on the blog post here.
Red Ribbon Week is observed nationally as a time for schools and communities to come together in the fight against drug abuse. Please click on
RED RIBBON WEEK
for more information
.
COMPUTERS 2 KIDS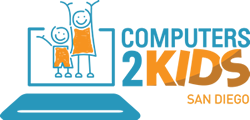 Are you in need of a computer or tablet? We will be having the Computers 2 Kid and Cox Communication at Rohr this Thursday, October 24 from 3:45 p.m.-5:15 p.m. This event sells refurbished computers and tablets at an affordable price. Click here to find more information and to apply today!
Costume Parade
This Friday we will be having our annual Costume Parade to "Scare Drugs Away", please review the guidelines for your child's costume. A flyer was also sent home with your child last week. Students will change into their regular clothes after the parade.
No costumes depicting violence
No props that resemble or could act as weapons
No bare midriffs
Masks are permitted for the parade walk only. However, Masks that depict violence or blood are NOT allowed.
If your child's costume involves face paint or make-up they need to bring something to get it off (baby wipes) as there are NO paper towels in the bathrooms. Parents you are welcome to stay and help your child take it off after the parade as well.
Trick or Trunk/October Nights
There are 4 days left to purchase tickets at a
discounted price. Don't miss out! We are very excited that our Trick or Trunk event is scheduled for Friday, October 25th from 4:00 until 5pm followed by October Nights from 5:00 p.m-7:30 p.m. Additional information for Trick or Trunk can be found here and the price of tickets for the October Nights can be found here.
ELAC MEETING
Our next English Language Advisory Committee meeting is next Friday, November 1st at 8:30 a.m. in room 206. We will be reviewing our current summative data and discussing how we can support our students in the classroom and at home. Please join us for this informative session, breakfast will be provided.
Snapshot of the Week
Monday, October 21, 2019: Red Ribbon Week Begins/"Sock it Drugs!" Wear Crazy Socks
Tuesday, October 22, 2019: "Our Futures are Too Bright for Drugs!" Wear neon clothing and sunglasses/DAC/DELAC Meeting (12:00 p.m.)
Wednesday, October 23, 2019: "Say "No" to Drugs is our Goal! Sports Day/Kickball game vs. Allen Eagles at Allen Elementary (3:30 p.m.)
Thursday, October 24, 2019: "Put Drugs to Sleep"Pajama Day/Connect 2 Compete Computer Distribution Event (3:45 p.m.)
Friday, October 25, 2019:" Scare Away Drugs!" Wear Halloween Costume/Costume Parade (8:20a.m.)/Trick or Trunk (4:00 p.m.)/October Nights (5:00 p.m.)
Upcoming Events
November 1: ELAC Meeting
November 6: Kickball Game vs. Los Altos @Rohr
November 11: Veteran's Day Observed/No School
November 13: Kickball Game vs. Clear View @ Rohr
November 19: DAC/DELAC Meeting
November 19: McTeacher Night